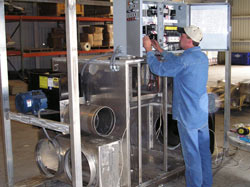 DeHumidification Technologies, LP supplies dehumidifiers and climate control equipment for industrial, construction, water damage and other projects requiring temporary humidity control. DH Tech has the largest fleet with the greatest variety of dehumidifiers in the industry. Our knowledge and experience will ensure you get the best equipment for the job. If you are working around the clock, we can provide you with a combination desiccant and refrigerant system to allow you to continue working in optimal conditions. We can install our equipment to meet your short-term, long-term or permanent installation project needs.
DH Tech has the experienced technicians, quality equipment and advanced technology to ensure the success of your project.
Desiccant Dehumidifiers
Refrigerant Dehumidifiers
Heaters & Cooling Coils
Rental Accessories
Dust Collectors
Desiccant Dehumidifiers
Desiccant dehumidification units pass air through a rotating desiccant impregnated wheel, which is continuously regenerated or re-dried, to depress the dew point. Desiccant dehumidification allows for aggressive drying and the ability to control humidity in very large spaces, holding the blast for extended periods of time.
DeHumidification Technologies, LP offers dehumidifiers with a fused disconnect and/or internal breakers to protect the equipment and power source from electrical surges and other instances that could potentially cause damage.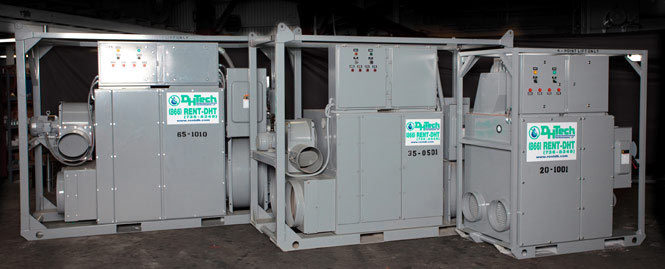 Rental Desiccant Dehumidifiers Specifications
Model No.
Power Requirements
Dimensions
Weight
Volt
Phase
Amps
Gas
Length
Width
Height
DH-600
480 V
three-phase
18 A
N/A
5 ft
2 ft
5 ft
500 lbs
DH-1000
240/480 V
three-phase
52/28.5 A
N/A
4.7 ft
2.5 ft
5 ft
730 lbs
DH-2000
240/480 V
three-phase
82.1/55.1 A
8.1 A
5 ft
3 ft
6 ft
904 lbs
DH-3500
480 V
three-phase
80 A
12.5 A
8 ft
4 ft
7 ft
1850 lbs
DH-4500/DH-5000
480 V
three-phase
107 A
20 A
13.7 ft
5 ft
6.3 ft
2080 lbs
DH-6500
480 V
three-phase
168.1 A
16.9 A
9.4 ft
4 ft
6.6 ft
2250 lbs
DH-10000
480 V
three-phase
256 A
30 A
11.5 ft
5.5 ft
6.5 ft
3260 lbs
DH-12000
480 V
three-phase
279 A
49 A
12.5 ft
6.5 ft
7.2 ft
3500 lbs
* Note: Some equipment has been modified and the above specifications may vary due to years manufactured and custom project requirements.
Refrigerant Dehumidifiers
Heaters & Cooling Coils
Rental Accessories
Dust Collectors